A coffee/cocktail table is very important to accentuate in your living room. But then you ask yourself which one to choose: a coffee table or a cocktail table? To a layman, both are the same. Most of people will advise you to choose anyone. However, a purist person would disagree and try to bring out the difference in these two tables.
A cocktail table is essentially a coffee table which is square or rectangular in shape.         A coffee table, on the other hand, is a cocktail table which is round or circular in shape.
Confused?? Let's make life simpler. A cocktail table is basically the same as a coffee table. There's no harm in believing this because at the end of the day both are tables placed in front of the sofa, both are used for entertaining guests and can be used to place the coffee as well as the cocktail! So, next time when a shopkeeper asks you whether you want a coffee table or a cocktail table, just ignore this "highly intellectual" question and go for your pick, rectangular or circular, who cares? All perfectionists and furniture enthusiasts reading this article, make sure you do not buy a coffee table on pretext of buying a cocktail table. Choose a rectangular or square shaped table when you want a cocktail table. A coffee table is circular.
Coffee OR Cocktail??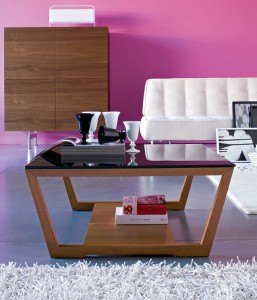 Both tables are equally useful in a household. There are no added advantages or disadvantages in choosing any one. This is because utilities of both are the same.
One must have definitely noticed that every individual in the house will use the same table for different purposes. Some like to relax their feet on it while enjoying a nice warm coffee, some use it to entertain guests, some like to have magazines and newspapers placed on it while some others simply like to enjoy a game of say, chess!
There are different types of coffee and cocktail tables: wood, glass tops, steel and even leather tables are available these days. The style and design is also an important issue for many people. After all, the table should match the interiors of the house and complement the sofa. You can find different designs nowadays, such as from Victorian designs to modern, contemporary and traditional designs for both coffee and cocktail tables. Even ottomans are used as coffee and cocktail tables these days. Options are many, so, you just need to have your pick.
Advantages of having that right table
Having a coffee or cocktail table in the house can never be a wrong decision. Moreover, the look of a living room is incomplete without that perfect center table. The height of the table should be the same as the height of the sofa. For those of you looking for some extra storage, make sure the table you choose has some extra shelves. The base of the table must be sturdy to prevent the table from toppling over. It should stand firm in its place.
So, the moral of the story is that the confusion was never there. Coffee and cocktail are both nice, it's just a matter of personal choice. So which one have you set your heart upon?