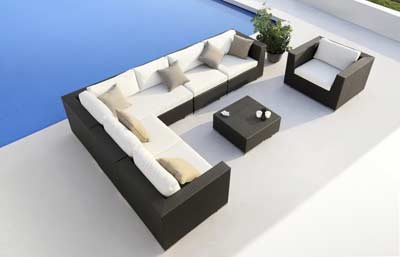 In some ways, there's nothing more luxurious than a warm day spent outside in the sunlight, especially by the side of a pool. Furthermore, time spent in the sun (with proper sunscreen) helps your body, encouraging production of vitamin D and helping to improve your mood. While anything can do for this – a blanket or a towel – sitting on the ground can rapidly get uncomfortable and hurt your back. Given the health and emotional benefits of time spent outdoors, why not invest in good patio seating to make the experience perfectly relaxing? The right piece can make relaxing outdoors feel elegant and restful, and you might soon find yourself spending more time outdoors than indoors.
There are several options for patio seating and relaxation, of course. From lounge chairs to outright beds, there's sure to be something sturdy and weather-resistant to meet your outdoor needs.
Lounge chairs and chaise lounges are the archetypical choice for outdoor relaxation. Designed to let you relax totally while still supporting you enough to let you read and eat with comfort, it's possible to spend hours in one of these chairs. Modern lounge chairs are often sleek and stylish, as much works of art as chairs – but they're still entirely functional, and incredibly comfortable!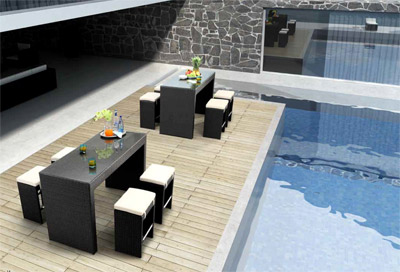 UV-resistant and weather-resistant sitting chairs can provide spots to talk with friends, eat meals outdoors, and otherwise work and have fun outside. From armchairs to sofas to dining chairs, there are a range of outdoor pieces designed to endure the sun and rain and keep sturdy and functional for years. They can be paired with coffee tables, dining tables, and more, and many chair sets come with matching tables.
Patio beds provide the ultimate in decadent relaxation. Designed to resist the weather and provide somewhere cozy and secure that still lets in the sun, they're perfect for catching a quick nap outdoors. Many modern patio beds come with retractable canopies if the sun is getting in your eyes too much or if you worry about sunburn. Cats know that sleeping in the sun is the best – find out why. Or, if you don't feel like napping, use them to get a beautiful, comfortable view of the sky, at night or during the day.
Whether you're looking to enjoy the sun, to get some refreshing air, or to stargaze and cuddle on a romantic evening, good patio seating will provide the perfect compliment to your outdoor activities. Find a patio furniture set to suit your life and needs today, and begin to enjoy the outdoors with style, relaxation, and ultimate comfort.